"To achieve great things, two things are needed; a plan, and not quite enough time."
The past few weeks have just been INSANE! I miss the days when finals were over, it meant you got to relax by the pool all day, drive around aimlessly and hang out with your friends all night, and sleep until whenever you want the next day...I may make it my goal in life to make sure those things become part of my regular routine again someday. All work and no play makes for a miserable existence....and I work hard....so I needed some playtime!
I had my first Votre Vu "show", if you could call it that, a few weekends ago. It was more than a little disappointing. Unfortunately I learned the hard way, that when your in business for yourself it's extremely important to know what demographic you're going to be serving before you spend $$$ to rent a booth and commit to wasting a day on setting up a booth. On the bright side, my friend Michelle and her little angel joined me for the afternoon.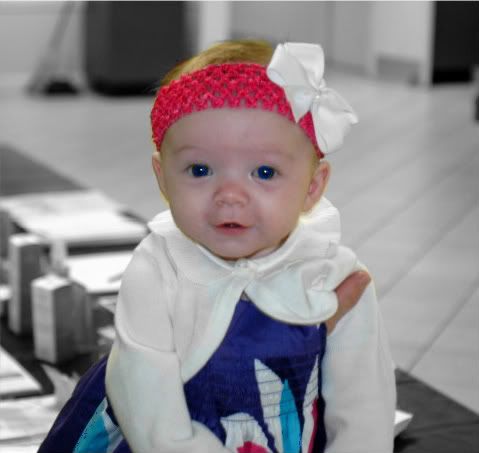 Any day with company like this is a good one :)
Speaking of CUTE babies :) Congrats to Darrell and Liz on their new bundle of Joy, Chloe Elizabeth! Born 2 weeks early (Just as I predicted) at a dainty little 8lbs 7 oz and 19 3/4 inches! Darrell and Liz are the kind of people you are proud to know and call friends...and we were so blessed that we go to be there when Darrell introduced his daughter to to the world for the first time. What a blessing!
One Proud Papa


Thursday nights in Lexington are full of fun, friends, food and live music at the 5/3 Pavillion
Thursday Night Live
is where we spend our Thursday evenings in the summer. It's a great place to go and hang out with your friends and grab a drink and listen to some live music on a giant patio.
For Kalen's 30th bithday this year I bought him tickets to several Cincinatti Reds games. I'm not that into baseball, so I made sure I got tickets to Friday night games so that I'd at least get to see a fireworks show :)
Kalen and I went to see the Reds play the Cardinals, and to my suprise, it was a great game to watch! Huge crowd, good weather, and a win for the redlegs!
After a fun filled Friday night in Cincinatti, Kalen and I came home and slept most of Saturday morning and afternoon, and then we headed to Georgetown Ky to the wedding of Dr.David Horton, and Ms. Ashley Crawford. ( I forgot my camera but pictures wouldn't have done her justice anyway because she was STUNNING!)
After the wedding on Saturday Kalen, Adam and I headed to Redmon's...our usual spot. Redmon's used to mean spending Thursday night with Kenny Owens and 100 of your closest friends. However those were the good ol' days and Redmon's has now been taken over by "Sundy Best" and their flock of prestonsburgians. Nick and Kris are from Kalen's hometown, and they are extremely talented so we like to go have a good time and show our support whenever we can. Saturday night was especially important because they were recording their first live album...so they needed plenty of people to sing along.
Listen to these guys
...they are the real deal! I might be turning into a groupie...but what can I say...I love good music!
After 4 nights of FUN FUN FUN, I spent my Sunday in recovery mode..... catching up on homework and sleep and getting in a little quality time with my Lilly ... my little Drama queen....
it's a rough life....